Hi Hi! Today I am going to share a Handmade Washi Tape Dispenser/Holder
I nearly ordered one from amazon the other day when I saw this cute piggy
How could I not buy it? I am willowpiggy!!!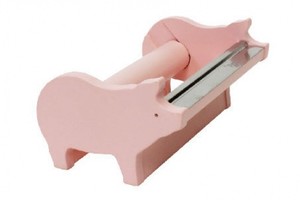 Gladly, It was out of stock, Phew I saved nearly £19!!
so when I saw this, I was thinking, maybe I can make this with camel shape die from
stampin up Fiesta Time
. but unfortunately, It doesn't hold regular size of washi tapes. but It can hold mini one.
so I was looking in to my die collection, thinking how I can make decent size? few ideas came out, but butterfly one was the best shape and size for this project.
I am very pleased how It came out. plus It was using materials which I already had. so It's bonus!
What You need for this
14 bold butterflies die cut shape (12 - Basic Black, 2 - Whisper White)
2 detailed images die cut shape (Basic Black)
Basic Black - 6-3/8" x 7-1/4"
Score - 3/8", 1-1/4", 2-1/8" each all 4 sides
Basic Black - 3" x 2-1/8", slightly small than 3" x 2-1/8"
I filmed a start to finish video, Anyone interested to see how I made this can watch it here or on
YouTube
.
if video isn't clear to explain, please
email me
!
Product List
Hope you enjoyed this project :-)
If anyone interested to place an order for Stampin' Up!(I'm Stampin' Up! UK demonstrator, Here is a link you can simply click the pink box :-)
Please do use the hostess code to support Willowpiggy :-) (hostesscode shown in the top right of my blog for the current one!) If your order is over £150, please don't use this code, You can be hostess and get the Rewards! Please feel to
email me
or visit
FB page
If you have any questions!